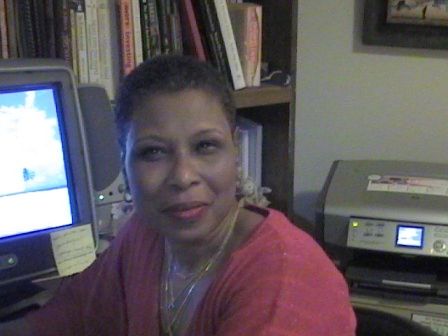 Hello;
Welcome to my online portfolio. Here, I will take you on a journey of my dreams and aspirations. My name is Vanessa King. I was born and raised in Chicago, Illinois and am the single mother of, now, four adult children and three granddaughters. I am the self published writer of an awe inspired collection of poetry, titled,
His Gift to Me:
Poetic Humanities.
I recently became self published which my book is NOW AVAILABLE online at:
http://bookstore.xlibris.com/Products/SKU-0081027049/default.aspx
I love people and I am a humanitarian by nature. In an effort to help a "sister" on her journey to sobriety, wholeness, and back into mainstream society, I am a regular volunteer at a drug and alcohol rehabilitation facility in Chicago. I facilitate a group session that I call,
His Gift to Me:
Poetry, Writing, and Reading, at the facility. It is designed to impart hope, empower and encourage women and mothers to gain and/or redefine their self-worth, confidence and an attitude of, Yes! ´I can do all things through Christ who strengthens me´ (Philippians 4:13).
I coordinated an Outreach ministry for former and current residents of rehabilitation
facilities, sober living environments and to the general community of females 17 years of age and older. At this time, however,
His Gift to Me
Outreach Ministry is on a hiatus reconstructing the program. Please visit the site at:
http://hisgift2me.com

His Gift to Me
is over 25 years in the making. I started out as a member of The International Black Writers Conference, Alice Browning, Founder & CEO, who has long since expired. I have attended several poetry groups operating out of different libraries; I've read my poems at open mics at various places. I've submitted my works in, what I consider today as questionable, poetry contests, however, I have never won. I've attended trade shows and have participated in programs and events held at Chicago City Colleges. I have been on a couple of radio talk shows (Gospel Radio Station 1570 AM) in 2003, sharing information regarding Community Service, (my) outreach program and my book. I've been a guest on Star Planet Television, W.L. Lillard, Executive Producer, 2003. In April, 2002 I opened a Christian bookstore that I named, of course,
His Gift to Me:
The Inspirational Novelty Shop; in April, 2004, 2 years later my proprietorship ended.
I have attended several church services and programs and read my poems for Mother's Day, Family Night and other church programs; and I am considered an in-house poet at my own church home. Reciting poem, Needed In the Home (Eph.6:4).
I am always willing to share, with others, the
talent
the Lord has entrusted me with and I refuse to be 'a doubtful and lazy servant of this
talent
and bury it' (Matthew 25:25-26). And with that said, I will continue and, always, work to see my dream become "my reality," in my lifetime.

His Gift to Me
is not only a book, but the multiple of several items that are derivatives of it. There are poetic expressions in plaques, frames, cards, and calendars and tee shirts wearing the name and scripture from 1Corinthians 7:7 which is my logo because I strongly believe it, and His word says it, that, '
we all have a gift from God'
and that settles it. I am endeavoring to keep the gift alive that He gave to me.
From this poetic episode in my life, also resulting from my poetry are songs. I was blessed to write one (1) commercial song about the city of Chicago that I created a music video about. I've also written five (5) secular songs that have accompanying melodies or music and they are prevalent to today's relationship experiences. Because I do not profess to be a singer/songwriter, entertainer and neither a performer, it is my desire to hear these songs recorded and performed by a professional recording artist and/or music producer. I am still on my journey of sharing information that will make known Poetic Expressions and Products and becoming a Best Seller.
"...The works that you are reviewing represent the past 25 years of enlightenment as well as it details a journey of both actual personal occurrences and those that have impacted our communities.
As I go forward in an effort to reach a larger audience through the use of more modern mediums, it is also my goals to encourage and awake the hopes and aspirations of individuals who have similar visions and passion.
I ask that you not only enjoy the excerpts of pure self expression but you connect to them as well. If you have any comments or questions I am receptive and welcome them. I look forward to connecting with like artist."
Thank you, and have a blessed day!
His Gift to Me
C/o Vanessa King
P.O. Box 43566
Chicago, Illinois 60643
(773) 650-1337
outreachministry55@yahoo.com